I was asked recently, by a young reader of this blog, why, instead of constantly berating the authorities over the environmental degradation caused by illegal gold mining, did I not instead recommend an environmentally-friendly, toxin-free method of mining gold in Ghana, to players in the industry.
The question there is: If you are a law-abiding citizen of Ghana, a "model African nation" supposedly led by a "model African politician," President John Dramani Mahama, appointed by U.N. Secretary General Ban Ki Moon, as co-chairperson (with Norway's Prime Minister, Ms. Erna Solberg, as the other co-chairperson), of 16 eminent persons from around the globe, to be UN Sustainable Development Goals Advocates, why wouldn't you be furious when under-resourced officialdom look on helplessly, as wealthy criminals destroy forests and other natural habitats, with total impunity?
Anyhow, I smiled ruefully, and wondered to myself whether she knew just how Byzantine our system actually is, and just how incredibly powerful the gold mining lobby in Ghana is. Gold mining companies in Ghana, and the super-wealthy criminal syndicates, which are behind most of the illegal gold mining being carried out in such blatant fashion, across our country, are a law unto themselves. Literally.
All the anti-gold mining campaigns, by environmental activists in Ghana, make no difference, whatsoever. Not in the slightest, alas. And, as things currently stand, gold mining companies will continue to destroy vast swathes of the Ghanaian countryside, for decades to come, because our political class does not care one jot, about the destruction of what is left of our nation's natural heritage.
As someone who has fought illegal gold miners, and illegal loggers, at great risk to my person for close to some two decades now, one is aware that the painful truth, is that all the noise that environmental activists in Ghana make, is just that: noise. And it falls on deaf ears because most of our vampire-elites are beholden to gold miners - both those who operate legally and those who operate illegally.
However, that notwithstanding, being eternal optimists, forever hopeful of positive change occuring in Ghana some day, in response to that young reader's admonishment (and as this blog's widow's mite contribution to making the gold mining industry in Ghana a more greener one) we are reproducing a culled article from the online specialist news website, Engineeering360.
It shows clearly that in the not too distant future toxin-free mining will be possible around the world - thanks to a slew of new inventions by researchers at the University of Arizona's College of Engineering, which will bring a paradigm shift in the world's mining industries: gold mining included.
Our hope, is that it will spur on officials of the Minerals Commission, the Ghana Chamber of Mines, the managements of all the gold mining companies in Ghana, the faculty and students of the University of Mines, at Tarkwa, and officials of the Environmental Protection Agency, to come together, and take all the necessary steps needed to enable them contact the University of Arizona's (UA) College of Engineering, and suggest that they collaborate to introduce the UA's new mining inventions, into Ghana's gold mining industry.
Once such collaboration between the Ghanaian entities mentioned above, and the College of Engineering, of the University of Arizona, commences, one's hope, is that Ghana's gold mining sector will be amongst the first in the world, to leverage the UA's College of Engineering's new inventions, when the new method of mining they are making possible, is scaled up.
When that happens, our nation will hopefully see an end to the egregious degradation of the natural environment across vast swathes of the Ghanaian countryside, currently being caused by illegal gold miners in particular, and Ghana's national economy's gold mining sector, generally.
Please read on:
"Molten Salts Deliver Cleaner Copper, Energy Capture
04 March 2016.


University of Arizona (UA) engineers have invented a toxin-free method, using high-temperature molten salts, to
extract copper from raw ore
. Separately, they developed new ways to utilize these same molten salts to recover and store the vast amounts of heat energy created in metal refining and smelting production. Together, the complementary inventions represent an opportunity to make big impacts in both mining and energy storage.
Current methods for extracting copper from ore involve chemical processes that produce huge mountains of waste mine tailings and lake-size wastewater collections, accumulating high levels of toxins such as arsenic, cadmium and sulfuric acid.
However, the refining method developed by University of Arizona College of Engineering professor Dominic Gervasio and principal research specialist Hassan Elsentriecy, from the Department of Chemical and Environmental Engineering, works by heating the ore using molten salts to temperatures exceeding 1,500 degrees Fahrenheit so that the copper is separated for easy collection.
According to the researchers, the technique is transferrable to any mineral extraction process.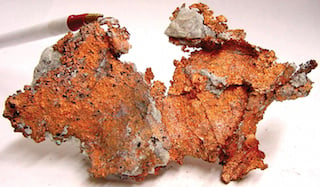 "What makes this truly unique is use of a very specific salt formula that has the ability to strip the copper from the ore without the use of water and dangerous chemicals," says Bob Sleeper, Tech Launch Arizona licensing manager for the College of Engineering.
As a parallel benefit, the technology also allows for the collection of surplus heat using it to power steam turbines and generators. The process is similar to—but much hotter than—that used for refining aluminum ore. Prior to this team's research, such processing was not possible.
Funded in part by entrepreneur and co-inventor Abraham Jalbout, the team worked with Tech Launch Arizona, the UA office that commercializes inventions stemming from university research, to bring the technologies to market via startup company MetOxs Electrochemical. MetOxs CEO, Jalbout, is currently in discussions with multiple companies to scale up the process.
"Given what's currently out there and what they're bringing to the market, these technologies could really shift the paradigm with cleaner, more efficient methods for both mining and energy storage," Sleeper says.